Hello there!
My name is Susan, and Designs by Prater is what you could call my creative outlet that pulls together my photography, art and graphic design endeavors! The most important thing you should know about me is that my life revolves around my God and my Savior Jesus Christ, my family (especially my husband Todd, son JD, and puppy Lexie), family and friends. Other than that, I am pretty much obsessed with photography, Coca-Cola, and the color green (and all shades of green for that matter, especially teal). I love sports but cannot play them worth a lick. I would not trade my time as a college student at Mississippi State for anything in the world. The friendships and memories made there will stick with me forever...Hail State and Go Dogs! And I am very picky about my chocolate chip cookies, grilled cheeses, and shaved ice (gotta be SnoBiz watermelon flavor).
View my complete profile

Monday, August 29, 2011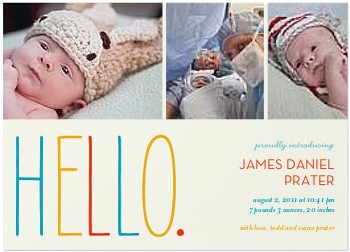 Hello Baby Boy Birth Announcement

Captured and Blogged by

Susan P.
at 7:00 PM
No comments:
Links to this post