The holiday season is upon us! So I thought I would take a little time to share a holiday gift guide including some of my favorite items that might be of assistance to you in your holiday shopping. Have fun browsing/shopping!
DESIGNS BY PRATER
Shop my Black Friday sale to save money on your next portrait session! Save $25 on a MINI session, $50 on a FOCUS session, and $100 on a digiFOCUS session! Contact me for more details or to order.
MARY KAY
Shop my Pink Friday sale at www.marykay.com/susanprater to save up to 50%. Your final discount will be applied as follows manually by me before your card is charged. Orders over $50 always include free shipping and a gift with purchase.
6:00 - 8:00 a.m. - 50% off
8:00 - 10:00 a.m. - 40% off
10:00 a.m. - 12:00 noon - 30% off
12:00 noon - 5:00 p.m. - 25% off
5:00 p.m. - 12:00 midnight - 15% off
NOTE: The only item not on sale is the new Skinvigorate cleansing brush. However, if you purchase it, you get your favorite cleanser for 50% off at any time during this sale.
STELLA & DOT
Shop the Black Friday sale over at my friend Jennie Lee's Stella & Dot website now through Friday, and be sure you are shopping from my trunk show that is open now until December 5.
STITCH FIX
A unique styling service where you create your personal style profile to receive a stylish package of goodies - unique clothes and accessories handpicked for you - delivered directly to your home. Keep what you like and send back the rest! Your $20 styling fee counts toward your fix. Find out more using my referral link!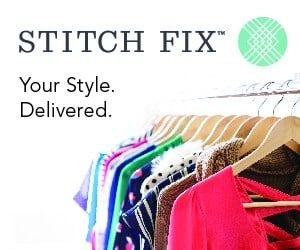 My first Stitch Fix! I kept the polka dot sweater (because it was maroon...duh!!) and the striped blazer. I had a really hard time sending the green top back, but I just wasn't in love with the fit for the price tag. So I sent it back with the comments to keep the green tops coming! And the jeans were too long, so I sent them back with the comments that I need them in a petite length. You can customize your fix SO much!! C'mon...give it a try :)
PREMIER DESIGNS JEWELER
Visit my sister-in-law's Premier Jewelry facebook page to keep up to date with her shows and specials!
PAMPERED CHEF
Visit my sister-in-law's Pampered Chef facebook page to keep up to date with her shows and specials!

Fan Us on Facebook
Follow Us on Twitter